Napan Agricultural Show Starts Thursday
The Napan Agricultural Show is just around the corner once again. This year, the 23rd annual agricultural fair runs August 14th to 17th and is located just 3 KM off of Highway 11 on the South Napan Road.
As always, there is something for everyone of all ages. The exciting attraction this year is the Hearts 'n Hooves Trick Riding Show from Western Canada. Ashley Furgeson and MacKenzie Jensen have performed at shows in British Columbia, Saskatchewan, Manitoba and Alberta, including the Northern Lights Arena at the Calgary Stampede. Now, they are bringing their show to the East Coast.
Ashley was raised on a horse ranch in northern Alberta so it is only natural that horses are still a huge part of Ashley's life. Six years ago she decided she wanted to learn to trick ride so she packed up her belongings and horses and moved to southern Alberta to take lessons from the world renowned trick rider Jerri Duce. Now performing all over Alberta, Saskatchewan, and Manitoba, Ashley loves the thrill of fast horses, performing for crowds and leaving audiences sitting on the edge of their seats. Her horse, Madonna, has proven to be an unbelievable partner. When not trick riding, Ashley can be found in the roping box or riding in the mountains in the summer.
Mackenzie is only 10 years old, and has been riding horses pretty much her whole life. She started trick riding when she was only 5 with world renowned trick rider Jerri Duce. She first learned on Jerri' s famous pony Sable. After a short time she then started training her own horse Tess that she now performs with. When Mackenzie is not trick riding you can find her and her horse barrel racing, pole bending, goat tying, and breakaway roping. She also enjoys family time camping and trail riding in the mountains.
This is the first time the Hearts 'n Hooves Trick Riding Show will perform in the Miramichi and it should be an exciting addition to the Napan Agricultural Show.
New this year at the Napan Agricultural Show are the Kid's Bouncy Castles and Hay Maze, a clean and family friendly area that your kids will enjoy for hours of great fun.
For the second year in a row, the Napan Agricultural Show will be a part of the 2014 Ultimate Supreme Draft Horse Challenge in the Atlantic Region. Napan is one of five competition shows in Atlantic Canada where Draft Horses are judged from several breeds until one Draft Horse is chosen as the Ultimate Supreme Draft Horse in Atlantic Canada. The Atlantic Canada winner will face off against the Western and Central Canadian winners to be chosen as the 2014 Canadian Ultimate Supreme Draft Horse Challenge winner.
Other events on the schedule include: Light Horse games, Draft Horse Hitches, several Kids events such as Wild 'n Woolly, 4-H judging, Tough Farmer Competition, Lawn Tractor Races and Woodsmen Competition. There will also be displays of Photography; Foods, Vegetable, Flowers and Crafts judging; entertainment by the Miramichi Country Music Opry; Breakfasts Friday to Sunday mornings; as well as Horseshoe and Washer Toss competitions. Don't forget to drop by the Antique Museum too!
Everything gets underway this Thursday, August 14th at 5:30 with events for the kids, Hearts 'n Hooves Trick Riders at 6 pm, Opening Ceremonies at 6:30 and the 42nd Napan Horse Hauling Match at 7 pm. For more information and the detailed schedule of events, go to the Napan Agricultural Show website at napan.ca/show or like Napan Agricultural Show on Facebook.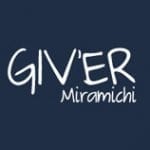 Giv'er Miramichi is about "What's up, what's new, what's happening". We are focused on building people up, supporting one another and celebrating our successes.