Miramichi Celebrates Culture Days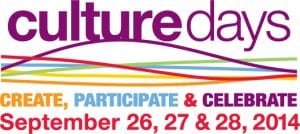 We are very excited to be included amongst more than 7,500 free activities that are already registered to take place in over 825 communities across Canada as part of the 5th anniversary of Culture Days, taking place on September 26-28, 2014. This showcase of our local culture presents us with an extraordinary opportunity to share our passion and interact directly with the community in an engaging way. As a result, we can share the creative process of our art so members of the public are able to fully appreciate and understand what is involved with our craft. It is also a great way to meet new potential supporters.
During the Culture Days weekend, we will open our doors and invite the public to participate in our craft.
Culture Days Events
Wednesday September 24th & Saturday September 27th
Kidsplayhouse, 55 Cunard Street
CULTURE DAYS Theatre Games and Creative Play
Join Glenn and Elizabeth Copeland and the students of Kidplayhouse for CULTURE DAYS theatre games and creative play. These drop-in classes are offered FREE!
Pre-registration is required so preparations can be made.
For adults – Wednesday,Sept. 24 from 6:30 to 8 pm
For ages 6-8 – Saturday, Sept. 27 from 11 am to 12 pm
For ages 9 and older – Saturday, Sept. 27 from 2 to 3:30 pm
To register, email
Friday, September 26th and Saturday September 27th
Water Street Gallery, 1732 Water Street
Artists from Water Street Gallery, and NBCC students will be dropping by at various times to sit outside and sketch, paint, discuss their work and share their creativity!
Friday, September 26th: 1pm to 3pm
Water Street Gallery, 1732 Water Street
Miramichi Spirit Sticks – Hands-on Demonstration
Aine Holder will be on site for a hands-on demonstration of painting driftwood from the Miramichi area into colourful 'Spirit Sticks', wands or walking sticks. Materials provided.
Saturday, September 27th: 1pm to 3pm
Water Street Gallery, 1732 Water Street
Childrens Activity – Art Card Creation
Paint, draw, collage and create your own one-of-a-kind art card to trade with friends. Materials provided. Come create with us! Demonstration by artist Laura Lea Comeau.
Friday, September 26th: 4 pm
Galerie ARTcadienne, Carrefour Beausoleil, 300 Beaverbrook Road
Art Exhibit Opening
Opening of a new exhibit of works by about 40 artists from throughout the province who are clients of The Canadian Mental Health Association of New Brunswick.  Exhibit will be present until October 26
Friday, September 26th: 8 pm
Carrefour Beausoleil Theatre, 300 Beaverbrook Road
Concert
Maxime McGraw and Joannie Benoît
There is a charge for admission:$20 adult/$10 student.  Tickets available at the door or at Carrefour Beausoleil front desk
Saturday September 27th, 1-2:30 pm
Seasons' View Café, 1729 Water Street
Reading by Local Writers
Words on Water in partnership with the Miramichi Regional Multicultural Association will celebrate Culture Days by hosting a poetry/prose reading by Miramichi writers. This is a free event. Some authors will be available to sign books. Lunch, wine or beverages are available from the café at attendees' expense during the reading. Join us, Discover the amazing talent on the river.
Saturday September 27th
Chatters Pub & Eatery, 365 Pleasant Street
An Evening of Latin Dancing
For details, call 773-6280
Celebrating its 5th Anniversary, Culture Days will be celebrated in hundreds of cities and towns from coast to coast to coast, with thousands of free activities from a wide range of disciplines including: visual arts, music, dance, theatre, architecture, heritage, film and video, literature, culinary arts and new media. Over 5.5 million Canadians have participated in 25,000 Culture Days activities hosted by 4,440 Canadian artists, cultural organizations and groups since 2010.
To learn more, please visit www.culturedays.ca
Connect with Culture Days on Facebook, Flickr and YouTube and join the conversation @culturedays on Twitter.
Launched in 2010, Culture Days is a volunteer-driven initiative guided by a national organization in collaboration with volunteer Provincial Task Forces, whose members come from a variety of backgrounds including cultural programming, tourism, municipal cultural planning and public engagement, who rally their arts and cultural communities to promote the event to the public in communities of all sizes across Canada.
As a leading national voice for the active and engaged cultural life of all Canadians, Culture Days provides support, tools and resources to a wide variety of artists and cultural organizations to help them unite the country through engagement in culture.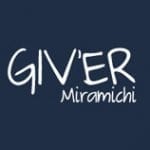 Giv'er Miramichi is about "What's up, what's new, what's happening". We are focused on building people up, supporting one another and celebrating our successes.