Recipe: Sweet Pepper Salad with Goat Cheese & Basil
Sweet Pepper Salad with Goat Cheese and Basil
Serves 4
Ingredients:
3 medium Bell peppers, various colours
1½ tsp 7 ml Olive oil
1½ tsp 7 ml Balsamic vinegar
2 tbsp 30 ml Goat cheese, plain, crumbled
1½ tsp 7 ml Basil, fresh, chopped
¼ tsp 1 ml Pepper
Directions:
Grill whole peppers until soft and blackened. Remove from grill and place in bag and seal top. Allow to sit for 5-10 minutes or until skin has loosened from peppers. Peel off the skin once cooled.
Slice grilled peppers into thick slices and arrange on a platter.
Whisk the oil and vinegar together in a small bowl. Drizzle over the peppers.
Sprinkle with goat cheese, basil and pepper.
Tip: Short on time? Cut the peppers into quarters and grill until they start to soften. Don't worry about peeling. Just top each piece with goat cheese, basil, pepper and a drizzle of vinegar.
Nutrition Information per Serving:
Calories: 58
Fat: 3 grams
Carbohydrate: 6 grams
Fibre: 1 gram
Protein: 10 grams
Sodium: 22 milligrams
Source: Sobeys Dietitians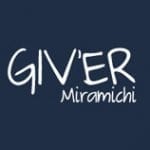 Giv'er Miramichi is about "What's up, what's new, what's happening". We are focused on building people up, supporting one another and celebrating our successes.