The Miramichi and the Great War (1914-1918)
The Miramichi and the Great War (1914-1918)
by Gary Silliker
Youngest Recruits
Albert Williston of Baie du Vin was eager to get into the fight overseas so he enlisted in the 145th Battalion at Moncton on March 1, 1916. Albert was 12 years old. Private Williston was quickly discharged when it was discovered that he had lied about his age (he even lied about his father's real name to add to the confusion). Albert was not deterred by being discharged and would re-enlist in the 236th Battalion at Fredericton in October 1916 and again be discharged; undeterred, he enlisted in the Canadian Engineers at Moncton in February 1917. After being discharged from the Canadian Engineers, young Albert travelled to northern Ontario, where no one would know him, and enlisted in the 252nd Battalion at age 13. Private Albert Williston never did make it overseas.
Clarence Gunderson of Newcastle enlisted in the Canadian Field Artillery at Newcastle on December 27, 1915 and went overseas with the rank of "driver." He was 13 years old when he enlisted. Driver Gunderson worked with the teams of horses that hauled the guns into battle and was wounded in France. In February 1918, while in northern France, Driver Clarence Gunderson was ordered to report to the commanding officer of his battery. The CO was in possession of a letter from Newcastle stating that Clarence was only 15 and that his real date of birth was June 28, 1902. Clarence could not deny the truth of the letter and was subsequently discharged and returned home to the Miramichi. Clarence probably had had enough adventure and welcomed the chance to get home.
In October 1916 Kristjan Hansen, a 16 year old sailor from Denmark, left his ship that was tied up in Chatham and enlisted in the 26th Battalion. Kristjan was killed in action in northern France nine months later and was the youngest Miramichi soldier killed in the Great War. He was 17. Private Kristjan Hansen was the son of Mr. and Mrs. Hans Peter Hansen of Aalborg, Denmark. He is buried in grave 19.E.21 of the Loos British Cemetery, France.
Family Members
Many families along the Miramichi had a number of family members join the services during the Great War. Five Craik brothers from Newcastle were in the army; 19 year George was killed in action, along with four other Miramichi men (Edward Bernard, Ernest Williston and Carter McLeod of Chatham, and Frank Tardy of Newcastle), during the battle of Flers-Courcelette in the Somme Valley of France on September 28, 1916. The Aitken family of Newcastle had four sons in uniform including Sir Max Aitken (Lord Beaverbrook), while the Tardy family of Newcastle had five sons fighting in Europe of which only one would come home to Canada after the war. By the end of the war, six of J.D. Creaghan's children had been swept up into the war effort. Three of his sons and one daughter were in the army and two other daughters were in England doing "their bit" for the war effort.
James Warren Davidson and John Travis Davidson, brothers from Newcastle, went to war in the infantry. James was killed in action during the battle of Passchendaele in October 1917. John had wounded earlier that year and returned home to Canada where he was discharged from the army. John would enlist in the Royal Canadian Navy in June 1917 and spend the rest of the war on coastal patrol in Canadian waters.
Private Alfred Cady, of Chatham, was with the 26th Battalion when he was killed in action in northern France on December 28, 1916. His son, Private Mell Cady, of the Royal Canadian Regiment, was wounded on November 7, 1918 near Mons, Belgium, and died of his wounds on November 10 (the war ended the next day).
Sydney Carlos "Carl" Heckbert of Chatham, a 19-year-old college student, enlisted in the Canadian Garrison Artillery at Halifax on October 11, 1915. Carl was serving as a signaller with 1st Siege Battery when he was wounded in a counter-battery attack during the fighting around Courcelette. Carl was invalided home in the summer of 1917. He later married Vessie Jane Taylor and died on October 6, 1969 in Vermilion, Alberta.
An Odd Duck
In 1913, 13 Irishmen came to the Miramichi to work in the lumbering business for W.B. Snowball. One of those Irishmen was a big fellow named Daniel Bailey. Bailey had served in the British army in India as a member of the Royal Irish Rifles so he was quickly recruited into the local militia regiment and promoted to sergeant. Bailey would return to England in 1914 and serve with the Royal Irish Rifles in Belgium.
The story of Daniel Belgium becomes a story of intrigue and mystery from the time he became a prisoner of war in September 1914. Bailey would later be released by the Germans so he could join the "Irish Brigade" of Irish Republican Brotherhood (IRB) where he became a co-conspirator of the world renowned Anglo-Irish humanitarian and ardent Irish republican, Sir Roger Casement.
Bailey was arrested at Banna Strand in April 1916, along with Casement, as they brought a load of rifles ashore from a German U-Boat. The 20,000 rifles, 10 machine guns and accompanying ammunition were intended for Irish rebels in Dublin. Sir Roger Casement was convicted of treason and executed, but not so Daniel Bailey. The story becomes more bizarre when Bailey is not charged as a traitor, becomes a witness for the Crown against Casement, is re-instated in the British army, and sent to Egypt where he was eventually promoted and decorated.
Daniel Bailey, Irish patriot and British traitor or Irish traitor and British patriot (take your pick) and one-time mill worker on the Miramichi, would later move to Canada and end his working days as a security guard at a Canadian army camp.
Gary Silliker is proud of his Miramichi roots. He has always had a keen interest in the men and women who were swept up into the events of the world's first global conflict – The Great War for Civilization. He had a lengthy military career, proudly serving with the Canadian Military Engineers. In 2005 he took leave from his position with UN Mine Action Centre in Afghanistan to tour the battlefields of France and Belgium and seek out the graves of the Miramichi war dead, that journey prompted him to research and write A Deadly Drive: The Miramichi Experience during the Great War published by FriesenPress Editions. Gary and his wife, the former Corinne Dalton of Newcastle, currently reside at "Sappers Rest" in Mahone Bay, NS, and have two children and four grandchildren.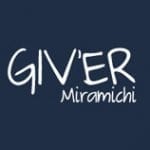 Giv'er Miramichi is about "What's up, what's new, what's happening". We are focused on building people up, supporting one another and celebrating our successes.