New Health Coach in the Community!
Have you struggled to successfully reach a health or wellness goal you've set for yourself? Deciding to take that next step in making a healthy lifestyle change can be difficult to say the least. Often times we are stuck at a standstill not knowing where to start, or after having multiple failed attempts we're left feeling helpless.
The first step is deciding to make that change and keeping in mind that making healthy lifestyle changes takes time and effort. Lifestyle changes don't happen overnight; in fact sustainable and relevant lifestyle changes are met by making small changes which lead to big results. And sometimes it helps to have someone by your side to hold you accountable and encourage you along the way.
Live Well! Bien Vivre! is happy to announce its new Health Coach in the Miramichi Region, Alicia Quann. Alicia is a Mount Allison graduate and a Miramichi native. She has worked with other Community-based organizations and has a passion for health and wellness.
Live Well! Bien Vivre! takes a community-based approach to help you achieve a healthier lifestyle and prevent and manage chronic health conditions. This program is free of charge and is available to any individual over the age of 19.
Alicia, will work with you one-on-one when it's convenient for you to set health and wellness goals and help you create a personalized plan. She will meet with you regularly to help you track and monitor your progress as well as guide, motivate and connect you with resources that are available in the community. By working one-on-one with a Health Coach you will increase your confidence and motivation to make long-term lifestyle changes on your own.
Interested in teaming up with Alicia at no cost? Email her at or give her a call at 506-624-4391.
"I recently met with Alicia Quann, the new Health Coach for Miramichi. Alicia brings enthusiasm and is eager to work with patients on the Miramichi in creating Health goals. The concept of Health Coaching has been used for several years, and is making huge impacts where it is combined with Family Practices in England. We are fortunate to have this service in New Brunswick for free, as there are usually charges in most regions. Alicia is not a councillor. She will not solve your health problems. She is there to coach you step by step in getting from where you are to where you want to be. Health coaching is part of a holistic approach to health and well being and is the future of medicine."

— Dr. Tiffany Keenan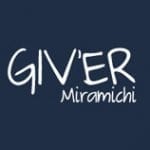 Giv'er Miramichi is about "What's up, what's new, what's happening". We are focused on building people up, supporting one another and celebrating our successes.