Production Gets Ready For The Vogue
Director Lloyd E. Cameron chose the complex, thoughtful and beautifully written play Mary's Wedding because it is a powerful piece of theatre exploring human relationships founded on love and comradeship. He is confident audience members will identify with, and be moved by the superb performances of local actors Brittany Cormier and Joey Dignam.
The play begins in the Prairies before the start of World War I. Through dream sequences, the audience gets to see love develop between a British girl Mary, who has just moved to the area, and Charlie, a young Canadian farm boy. Then, by sharing letters written home from the front and flashbacks to the actual fighting, the relationship between a commanding officer and an enlisted man is vividly portrayed.
Cameron is thrilled his company, Double L Productions, will be the first to present a theatrical production in the newly renovated Vogue Theatre in Chatham, which has marvellous acoustics, new seats and a well-constructed stage.
Mary's Wedding will be presented Friday March 13th and Saturday March 14th at 7:30 pm and Sunday March 15th at 2 pm. Tickets cost $20 and are available at Scott's Pharmasave and Brookdale Flower Shop.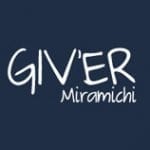 Giv'er Miramichi is about "What's up, what's new, what's happening". We are focused on building people up, supporting one another and celebrating our successes.