Open Air Church Service For Spring Fest
When was the last time you carried a rack of ribs into a church service? Maybe not that often, but you'll have the opportunity to do just that at an outdoor church service at the downtown Newcastle Waterfront on Sunday, May 24th at 11 AM as part of Rotary Spring Fest. This special service is hosted by "The Point Church" in Miramichi and they are making room for everyone.
"We are pumped to be part of this great Rotary Club-sponsored community festival," said Kevin Matthews, lead pastor of The Point Church. "We love to partner with other organizations in our community all year long and this interfaith service along the waterfront is a great way to show how much we love Miramichi. We believe there's more to life than the daily routines that can tear us down. We want everyone to come be built up with a message of hope. That's the message we look forward to sharing on May 24 at Spring Fest."
If you are worried that this is a service just for "church people", Matthews was quick to add that everyone will feel welcome at this event and everyone is invited.
"The Spring Fest Sunday service is going to be a great encouragement to our community," said Barbara Stothart, President of the Rotary Club of Newcastle. "Uplifting music and a unique, energetic approach to faith blends perfectly with our other festival activities."
The service is open to people of all denominations, faiths, and walks of life. Seating will be provided.
SpringFest activities include the Rib Fest with professional ribbers from the Toronto area, human foosball, washer toss ($1000 first prize), children's activities, the community worship service, constant entertainment, and more. The festival runs from May 22 – 24, so be sure to Save The Date!
The Point Church is one church that meets in two locations in Miramichi. Regular services happen in Newcastle (582 King George Highway) at 9:30 AM and 11:00 AM on Sundays and in Chatham (616 Wellington Street) at 11:00 AM. For more information on the Rotary Spring Fest worship service, please visit The Point Church website at www.ThePointChurch.ca/SpringFest.
For more information about the Rotary Club of Newcastle and Spring Fest, please visit www.RotarySpringFest.ca. Remember to Like us on Facebook and follow us on Twitter @RotaryFest. Depending on the weather that weekend, you may even get to wear your favourite hockey jersey again – see you Downtown!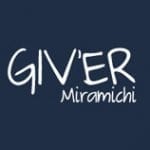 Giv'er Miramichi is about "What's up, what's new, what's happening". We are focused on building people up, supporting one another and celebrating our successes.