Provincial & Federal Funds to Repair Centennial Bridge
The provincial and federal governments will partner to fund repair work for the Centennial Bridge in Miramichi.
The work is planned over the next nine years and will receive funding consideration of up to $44.2 million from the provincial government as part of its Strategic Infrastructure Initiative and up to $38.6 million from the federal government under the New Building Canada Plan.
"Infrastructure renewal is a central part of our plan to stimulate job creation and economic activity in New Brunswick," said Transportation and Infrastructure Minister Roger Melanson. "We are proud to partner with the federal government to invest in the renewal of the Centennial Bridge, a strategic piece of infrastructure that links northern New Brunswick to the rest of the province and the country."
In the 2015-16 fiscal year, the provincial government will undertake Phase 2 of the Centennial Bridge refurbishment which will include strengthening and repairs of the northern spans and the main centre span, as well as painting.
As the provincial government develops its 10-year infrastructure plan, further funding will be considered for the project. Under the Strategic Infrastructure Initiative, projects are required to demonstrate their ability to:
create jobs;
leverage funds through outside partners;
generate lasting economic activity;
comply with asset management methodologies and principles; and
generate ongoing savings and efficiencies on behalf of New Brunswickers.
"I am thrilled that the rehabilitation of this critical piece of local infrastructure will soon be under way," said Miramichi MP Tilly O'Neill Gordon. "The Centennial Bridge not only links the communities of Miramichi, but is a key component of New Brunswick's transportation system and the social and economic progress of the entire region."
O'Neill Gordon attended the event for federal Infrastructure, Communities and Intergovernmental Affairs Minister Denis Lebel.
"The Centennial Bridge is an essential part of our community's infrastructure," said Miramichi Mayor Gerry Cormier. "We are extremely pleased that both levels of government have committed to maintaining and upgrading this vital piece of our transportation system."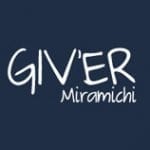 Giv'er Miramichi is about "What's up, what's new, what's happening". We are focused on building people up, supporting one another and celebrating our successes.