13th Annual APEGNB Pumpkin Fling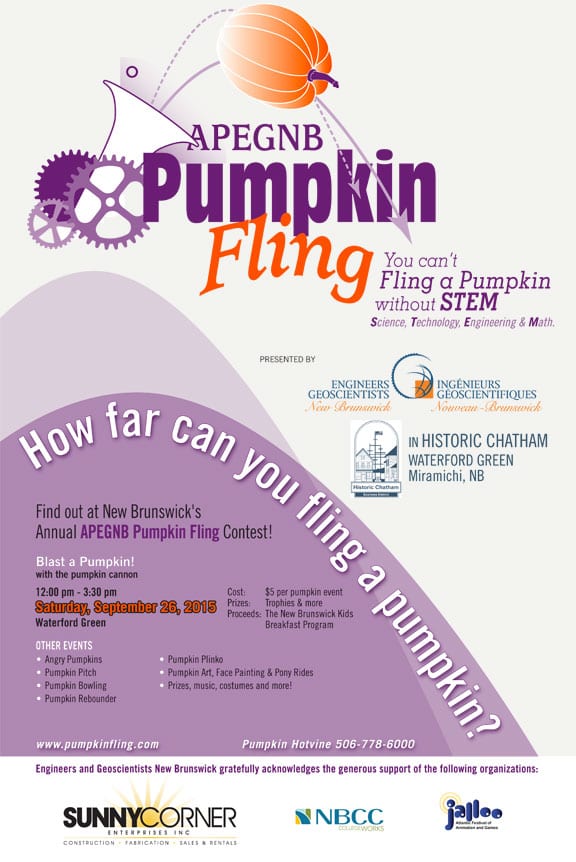 The 13th Annual APEGNB Pumpkin Fling happens this Saturday, September 26th, from 12 noon to 3:30 pm at Waterford Green in the Historic Downtown Chatham Business District.
The APEGNB Pumpkin Fling was conceived by members of the APEGNB''s (Association of Professional Engineers and Geoscientists of New Brunswick) Northeastern Branch as a way to encourage kids to pursue careers in science and engineering. Prizes are awarded for those pumpkins that land closest to the trampoline target in the river.
There will be a lot of activities starting at noon. The cost is $5 per pumpkin event, with all proceeds going toward The New Brunswick Kids Breakfast Program.
Events include:
• Angry Pumpkin
• Pumpkin Pitch
• Pumpkin Bowling
• Pumpkin Rebounder
• Pumpkin Plinko
• Pony Rides
• Pumpkin Zip line (New)
• FunZone Castles
• Rotary Chili Cook Off
• Sobeys Pumpkin Pie Cook Off (New)
• Pumpkin Art, Face Painting
• Prizes, music, costumes and more
• Mini Trebuchet Demo (New)
For more information visit Discover Miramichi or www.pumpkinfling.com.
Engineers and Geoscientists New Brunswick gratefully acknowledges the generous support of the following organization: Sunny Corner Enterprises, NBCC, and Jalloo.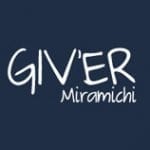 Giv'er Miramichi is about "What's up, what's new, what's happening". We are focused on building people up, supporting one another and celebrating our successes.