A Family Place in Miramichi
The Northumberland County Family Resource Centre hosts 10 active centres throughout the region, each offering a variety of programs and activities available to parents and children ages 0 to 6 years in their respective communities. Programs are offered free of charge, and are sponsored by the Public Health Agency of Canada.
A Family Place Inc. provides a pleasant, inviting atmosphere where peers come to meet, to learn and to share ideas. Children learn positive social skills in an environment that promotes emotional and intellectual growth through numerous programs and activities.
The centre also provides a wealth of information to parents, enabling them to learn new skills, as well as to add to their existing parenting skills, resulting in increased confidence in their role as a responsible adult in the lives of their children.
Come join the fun at a center near you!
November Schedule
Mondays – Newcastle Drop-In
10 am – 12 noon, Harkins Elementary School Basement
Nov. 9: Theme: National Child Day
Wednesdays – Chatham Drop-In
10 am – 12 noon, Ian Baillie School Gym
Nov. 4: Theme: National Child Day
Wednesdays: Roots of Empathy
1:30 pm – 2:30 pm, Nelson
Thursdays: ABC's of Being 3, Newcastle
9:30-10:30am, Harkins Elementary School Basement
Please note: the Tuesday drop-in in Chatham at St. Andrews, ABC's of Being 3, has been cancelled.
Nov 16-27: EYE-DA testing this week. There will be no regular programs! Please check the Facebook group for more information.
Drop-ins are held throughout the county, please call the main office for more information, 506-622-5103. Remember if school is closed, we are too!
A Family Place: Miramichi (Newcastle and Chatham)
Contact: Melanie Murphy 506-625-0215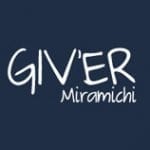 Giv'er Miramichi is about "What's up, what's new, what's happening". We are focused on building people up, supporting one another and celebrating our successes.