Miramichi Fishing Report for Thursday, May 11, 2017
MIRAMICHI – This week was pretty slow for angling and pretty fast for all rivers in the system.  Last weekend's rain brought rivers to extremely levels, some not seen here in many years.  Not only were they high, but they were raging beyond flood stages.  If one had blindfolded an angler, put him on the river and took off the blindfold, he would immediately think he was on the Petitcodiac as the water was muddy brown.  There was even some snow mixed in with rain here Tuesday evening, and rain on Wednesday, so the rivers may be up again.
Last Saturday's Public Education Awareness gathering regarding DFO's imminent closure of a portion of the Northwest Miramichi (dates to be announced as the water has to warm before the striped bass begin to spawn) drew a crowd of close to 200 despite a literal downpour.  One wonders what the numbers would have been with nice weather and decent boating conditions.  Organizers are to be congratulated for a well put-together program.  Many are saying this was only a warning shot across the bow if a closure takes place.
The Coalition for Better Salmon Management (CBSM) now has a website where members and others interested in finding out more may go Click on this link: salmonnb.com  The Coalition is barely two months old and already represents the views of over 900 members.  It is now a major voice for salmon conservation here in New Brunswick.
W. W. Doak and Sons in Doaktown said there was not a lot to report due to very high water.  One jokingly said "If your camp is still there, that's a good sign".  The water had dropped off some by Wednesday but was still high and cold.  They felt that there should still be about another week of spring salmon fishing. Flies of choice were Grey Ghosts, Black Ghosts, Smelts, Renous Specials, and dark Marabous.
Andrew Anthony of Ledges Inn in Doaktown and Mountain Channel in the Rapids area said the water had been very high and dirty, but was clearing by Wednesday.  However, they had no guests in and no boats out, so things there were pretty quiet
Herb Barry Sr. of Herb's Fly Shop on the Station Road in Blackville said angling was very quiet as the water was extremely high and dirty, resulting in very few anglers out.  There were no reports of fish being caught. Flies of choice by the few out were Christmas and Golden Eagles.  In short, anything big and bright with loads of Krystal Flash.
Curtis Miramichi River Outfitting in Blackville said the water had been very high and dirty, but had started to drop some and clear a bit by Wednesday.  There were not a lot of anglers out, but they were picking up an odd fish. Flies of choice were Renous Specials, Black Ghosts, Red Eagles, Blue Smelts and a Marabou version of the Renous Special.
Jim Laws of Miramichi Hunting and Fishing in Newcastle, Miramichi said he had no reports of spring salmon as the water was too high and dirty, with not many anglers out.  Those that dared to approach the river were looking for striped bass.   Generally, the bass were sporadic with a few places fishing well while others produced nothing.  Monday had been a decent day, but by Tuesday, everything had slowed again. Flies of choice were Renous Specials, Black Ghosts, Blue Smelts, Christmas Trees and Golden Eagles. Bass anglers were using mostly rubber fish and jigs.
Syd Matchett of Trout Brook Fly Shop on the Northwest Miramichi said angling had been good until last week's rain, but it was not much good since as the water was high and dirty.  There was even some snow Tuesday evening.  Syd joked that the water was so high the he almost expected to see a boat going up the tiny brook in his yard.  He felt that the high water should bring more stripers into the system.  It will probably be the weekend before anglers can get back to the river. The water was even too high for flies of choice.
Debbie Norton of Upper Oxbow Outdoor Adventures on the Little Southwest Miramichi said it was poor fishing as it was almost impossible to get on the water.  Anyone who was out was probably bass fishing, and it was even too cold for that Tuesday.  They did manage a lone salmon on Wednesday afternoon. Flies of choice were Renous Specials.
So with rivers already high and more rain on Wednesday and today, be more than careful as you get out and "on the water".
Don't forget to show your support for our sponsors, because without them, this column would not be possible.  

ANY FINANCIAL CONTRIBUTIONS TOWARD HELPING WITH THIS COLUMN ARE GREATLY APPRECIATED.
Click here to donate now. Or to donate by mail, send to:
Doug Underhill
438 McKinnon Road
Miramichi, NB, Canada, E1V 6G2
A SPECIAL THANKS to all who made contributions last season.
If you would like to sponsor this column, give us a call at (506) 352-7668 or email .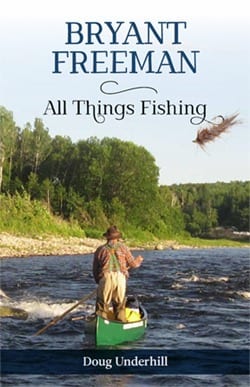 Bryant Freeman: ALL THINGS FISHING by Doug Underhill
NOW AVAILABLE in Stores
or from Doug Underhill
438 McKinnon Road
Miramichi, NB
E1V 6G2
or Bryant Freeman 1-506-386-6269
Cover price $19.95
Shipping to Canada $25.00 (Incl shipping & handling)
To US $30.00 (incl shipping & handling)
Thought for the Week: "May the holes in your net be no larger than the fish in it."  – Irish Blessing
Anyone wishing to report suspicious fishing activity anonymously is asked to contact the nearest Fisheries and Oceans Canada office or to call Crime Stoppers at 1-800-222-8477
Until next week
TIGHT LINES
DOUG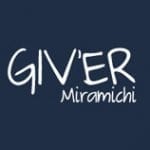 Giv'er Miramichi is about "What's up, what's new, what's happening". We are focused on building people up, supporting one another and celebrating our successes.