Let us support you on your cancer journey…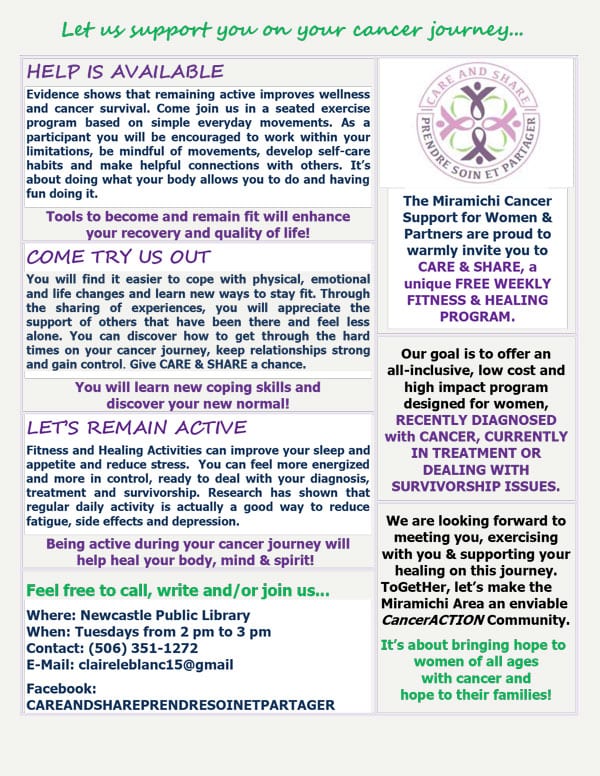 RECENTLY DIAGNOSED with CANCER, CURRENTLY IN TREATMENT OR
DEALING WITH SURVIVORSHIP ISSUES.
Let us support you on your cancer journey…
HELP IS AVAILABLE
Evidence shows that remaining active improves wellness and cancer survival. Come join us in a seated exercise program based on simple everyday movements. As a participant you will be encouraged to work within your limitations, be mindful of movements, develop self-care habits and make helpful connections with others. It's about doing what your body allows you to do and having fun doing it. Tools to become and remain fit will enhance your recovery and quality of life!
COME TRY US OUT
You will find it easier to cope with physical, emotional and life changes and learn new ways to stay fit. Through the sharing of experiences, you will appreciate the support of others that have been there and feel less alone. You can discover how to get through the hard times on your cancer journey, keep relationships strong and gain control. Give CARE & SHARE a chance. You will learn new coping skills and discover your new normal!
LET'S REMAIN ACTIVE
Fitness and Healing Activities can improve your sleep and appetite and reduce stress. You can feel more energized and more in control, ready to deal with your diagnosis, treatment and survivorship. Research has shown that regular daily activity is actually a good way to reduce fatigue, side effects and depression. Being active during your cancer journey will help heal your body, mind & spirit!
The Miramichi Cancer Support for Women & Partners are proud to warmly invite you to CARE & SHARE, a unique FREE WEEKLY FITNESS & HEALING PROGRAM.
Feel free to call, write and/or join us…
Where: Newcastle Public Library
When: Tuesdays from 2 pm to 3 pm
Contact: (506) 351-1272
E-Mail:
Facebook: CAREANDSHAREPRENDRESOINETPARTAGER
We are looking forward to meeting you, exercising with you & supporting your healing on this journey.
ToGetHer, let's make the Miramichi Area an enviable CancerACTION Community.
It's about bringing hope to women of all ages with cancer and hope to their families!
Posted by: New Brunswick Breast and Women's Cancer Partnership