Edie Szabo – Teaching and Encouraging Artists is her Passion
by Stacy Underhill
Edie Szabo's lifelong passion for art started when she was six years old, living in Budapest. Her early life was hard, growing up under communist rule but amidst the despair she discovered the studio of a neighbourhood painter, and was instantly mesmerized. "Soon he found me at his doorstep watching, admiring his ability, and I could not wait to get my hands on his brushes and tubes of paints… even though I was terrified of his dogs." says Edie.
At age 18 she studied art and design in Budapest and at 22 her grandparents brought her to Canada. She worked hard to study English and in a few years become a lab and xray technician in a hospital in Ontario.
"Living and working in many places in Ontario and the Maritimes my art had to take a second place but always was the first in my heart." She eventually began to study art again by attending art schools, seminars by art institutes and artists in Canada, Budapest and USA.
Edie says she is always curious about how other artists think. "I often took courses from artists, not because I wanted to learn how to paint like them, but because I wanted to get inside their minds and understand how they saw the world, and why they made the artistic choices that they did." She has studied with such famous artists as Robert Bateman, M. Katherine Hurley and Bob Ross who was also a friend.
I visited Edie at her home in Loggieville and she showed me an enormous scrapbook filled with many newspaper clippings and photos from all the exhibits she attended throughout Ontario, the Maritimes, USA and Hungary, the classes she has taught, paintings she donated, and prizes won at juried fine art exhibits. When she turned the page to find a letter from a former student, a young man expressing his gratitude for all he had learned from her, she said "This is the most important thing I have to show you. This is what it is all about… teaching and encouraging young artists."
Edie and her husband Ron moved to Miramichi from PEI a few years ago so she could be closer to an eye doctor. Her eyesight required a specialists care and when Dr. Sharma was recommended to her, they decided to move.
I first met Edie at one of her oil painting classes held in Miramichi and I knew I had stumbled upon something special. The close-knit group was very welcoming and lunch time felt like a family gathering with home-made scalloped potatoes and a hearty soup & biscuits made by Ron. One thing was clear, Edie's students adore her, and some have been attending for years.
"My students are at all different skill levels and some have never held a brush before. Some come for the social aspect and "therapy" that painting provides, while others are serious about becoming artists," says Edie. She encourages her students to not copy her work, but to learn the basic techniques and find their own style. "I teach them about using colour and contrast, how to create shadows and light, and give them the freedom to be creative. Everyone puts their own feelings into the painting, so they all come out different."
Edie describes her style as romantic realism, and she loves painting with lots of colour. She paints everything from memory, or her imagination, and she likes to put a little bit of mystery in a painting in the form of not showing something. "The hope of any artist is for their work to evoke emotions from people. I want them to feel something and to keep looking for what is, or maybe isn't there in a painting – to wonder what is behind the foggy mist, or where does that path lead." Edie was at an exhibit in Bar Harbour, Maine, and a woman was brought to tears by one of her sunset paintings. Edie was so moved by her reaction that she gave her the painting.

Monthly oil painting classes are held at the United Church Centre in Newcastle (556 King George Hwy) from 9am to 3pm. For $65 you take home a completed 16 x 20 stretched canvas painting. All set-up, clean up, and supplies are provided, along with a home-made lunch. For information and to sign-up find Edie Szabo Oil Painting Classes on Facebook, or call Edie at 622-3260 or email . Private classes are also available upon request.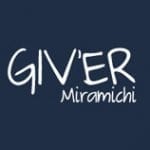 Giv'er Miramichi is about "What's up, what's new, what's happening". We are focused on building people up, supporting one another and celebrating our successes.