Songwriter Circle Tour Miramichi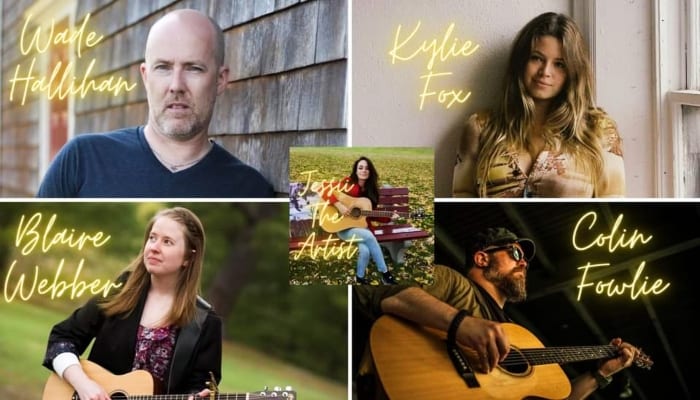 We are very excited to be booking some tours again after a long 2020.We will be sending three of our favorite singer songwriters on a tour through New Brunswick. They will pick up a local artist on each stop to fill out the show of four songwriters on stage at the same time each night. Shows will be two sets with each set being 3-4 songs/stories from each artist.

The Miramichi Tour / Show will be held on Friday, January 22nd, 2021 from 7pm to 10pm at the Kinsmen Club of the Miramichi, 100 Newcastle Boulevard.
Local Artist – Wade Hallihan and a special opening set by Jessii The Artist
Doors at 7 PM and the Show at 8 PM.

6 person bubble tables $80
4 person bubble tables $50
Tickets available now
https://etixnow.com/…/colin-fowlie/jan-22-2021/kin-center
Find the event on Facebook at: https://www.facebook.com/events/309206763405085
Colin Fowlie (Fredericton, NB)
Critically-acclaimed Canadian recording artist and versatile singer-songwriter Colin Fowlie has arrived on the scene with an abundant horn of plenty in the life experience department. He brings with him a storied past, new and compelling compositions in song, and charismatic vocal stylings that are turning heads with his acclaimed debut full-length album called, "Party Music." The release of Party Music signifies the beginning of a new era for Fowlie, as he metamorphoses into a full-time tour de force in the musical realm. His lifelong journey as a songwriter and touring performer has culminated as his primary focus, along with family and a passion for exploring the open road with the wind in his face. Colin has recently finished recording his sophomore album with Canadian great Ariel Pozen as producer and is due for release in the first half of 2021. The unique character of his songs fuse elements of folk, rock, blues and Americana/Canadiana into a special blend of universally themed storytelling that, along with his down-to-earth personality, create magic that audiences adore. Colin's discography has garnered radio airplay on campus, community and commercial radio across Canada and has graced various charts, both regionally and nationally. He has accrued more than 3 million views on YouTube and was awarded the coveted gold standard status at MusicFest Canada (1994) and Maritime MusicFest (1995). Radio stations in the UK, Holland, Australia, and the USA have also embraced his music since 2015. He continues to grow his fan base through passion-filled live performances at marquee festivals that include; Harvest Jazz & Blues, Area 506, Larlee Creek Hullabaloo, Living Roots and Tay Creek, to name a few.
Blaire Webber
Blaire is a singer-songwriter from Fredericton NB, now living in Saint John. Blaire has been writing and playing songs throughout NB at venues and festivals for a few years now. Don't let her small stature and quiet nature fool you, she is a force to be reckoned with. Blaire takes experiences and events and turns them into songs that will grab you. She is currently working on a new collaborative project to be launched soon.
Kylie Fox (Saint John, NB)
Alt-folk Canadiana artist Kylie Fox writes music with unmistakable genuineness and endearing charm; traits that have earned Fox an attentive audience coast to coast, and features on CBC, charting on earshot!, festival stage spots, and more.. Her latest album release Green is a fitting example of her sentimental soft-spot effortlessly intertwining with quick wit, signature sarcasm, and inherent empathy. Alt-folk, Canadiana artist Kylie Fox, from Saint John, New Brunswick, is a story-teller notable for quick wit, signature sarcasm, and endearing charm. Her commanding vocal range propels her stories with a compelling force and her natural stage presence has gained her an attentive audience coast to coast. After pursuing multiple Canadian tours, attending international songwriting residencies including one at the Banff Centre for the Arts, and making appearances on East Coast festival stages, Kylie released her anticipated, debut full-length album Green in September 2020, recorded and produced by ECMA winning producer Dale Murray. She was recently acknowledged as New Brunswick's Breakthrough Artist of the Year (2020) by the Music New Brunswick PrixNB Awards.
Wade Hallihan
After gigging and entertaining for 25 years, in 2015 Miramichi's Wade Hallihan decided to take a step back and start focusing on original material. Many show openers, song writers' circles and a couple appearances on "Miramichi Songwriters" led to the release of his debut EP of original material in 2019.A natural born storyteller, Wade brings his audience along the with him and builds a personal connection in his writing and delivery.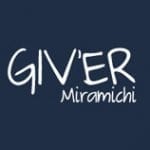 Giv'er Miramichi is about "What's up, what's new, what's happening". We are focused on building people up, supporting one another and celebrating our successes.