Madness at the Manse: Oct. 13-14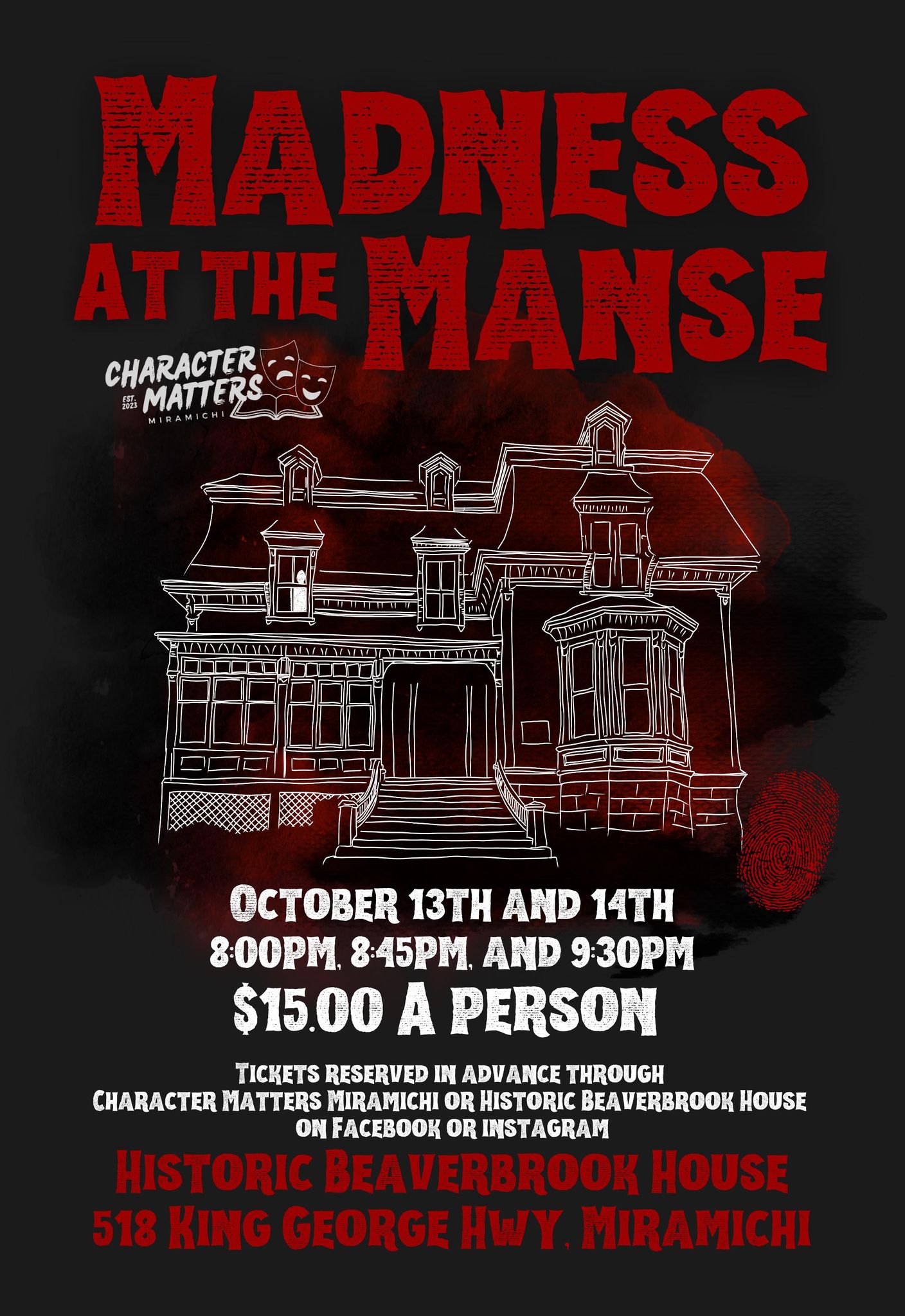 This October 13th and 14th "Character Matters Miramichi" is proud to partner with Historic Beaverbrook House to present, "Madness At The Manse," a theatrical tour showcasing the eerie, the strange, and the downright mad. Join the snobbish Dr. Phineas Bigby, and his wary assistant, Ms. Soloman, as they guide you through the haunted halls of history. Who knows what ghosts are waiting for YOU this year?
Join us and find out! Tours run each night at 8pm, 8:45pm and 9:30pm at Historic Beaverbrook House, 518 King George Hwy, Newcastle. Tickets are $15 a person.
For almost 150 years, this stately three-storey home has stood along the King George Highway, watching generations of people pass by, and pass on. It was built for a shipper, named William Watt, who, for reasons unexplained, never lived in the majestic house. Considerable research has been done on the man, and next to nothing can be found out about him. Names like Davidson, Fraser, Peabody, Russell and Cunard appear again and again in history books with regards to Miramichi shipbuilding, but we are left asking, "What happened to William Watt?"
The house has been a source of mystery since the last nail was struck.
The site has been a hot spot of paranormal activity, with various investigators, from around the Maritimes, making pilgrimages to visit the historic home, and to spend the night, if they dare. From floating orbs, captured in night-vision, to strange voice-like frequencies, appearing on audio devices, a great deal of seemingly inexplicable content has been recorded, to pique the curiosity of both young and old.
Former summer students, who worked at the house, have countless stories of doors opening on their own, typewriters making noise when no one is present, and the sound of somebody with a cane walking above them, upstairs. Some past visitors have gone so far as to say they have witnessed spirits, such as the mysterious Lady in Blue, walking the halls, and even see Lord Beaverbrook himself, seated in a chair, writing.
Please book in advance to guarantee your spot.
Contact Character Matters Miramichi at or (506) 210-1830. Learn more at www.charactermattersmiramichi.com
Contact Historic Beaverbrook House at or (506) 622-5572 . Learn more at https://www.beaverbrookhouse.com. Historic Beaverbrook House is located at 518 King George Hwy, Newcastle.
Posted by: Character Matters Miramichi