Miramichi Artist Demonstrates Work at Newcastle Farmers' Market on March 9th
Miramichi Artist in Residence to work at the Newcastle Farmer's Market in March in Response to Poems and Stories by the River's Writers

Artist Gloria Savoie is to give a demonstration of her art at the Newcastle Farmers Market, Miramichi on Friday, March 9th.
Ms. Savoie is Miramichi Artist in Residence for a project funded by the NB Department of Tourism, Heritage and Culture. The project is aimed at raising awareness of the arts in the area, engaging the public and challenging the artist to explore new approaches to her art. She will be working on aspects of her etching in wood, with colour in different pigments, dyes and paint, in response to work of well-known Miramichi Writers. The work investigates what Miramichi means to local residents and artists in terms of visual representation. It searches for the essence of this unique community.
Gloria is working with quotes from Miramichi writers. She then thinks of a design based on their words. After many draft sketches, a draft composition, along with excerpts of poetry or stories, is finalized and transferred to wood in preparation for etching. Once done, colour is added. The final steps are to add a protective coating. The designs will feed into Mirimichi's proposed Literary Trail.
Not surprisingly, a lot of her new art works contain inspiration from nature: the river and the land always a strong presence in the Miramichi region. Gloria has used the Miramichi for her work in the past. However, her earlier work was more of a documentation of the city and area's rich history. In this project, she is aiming to create something conceptual, to use familiar images but to imagine them in a new way.
Gloria graduated on the Dean's List from the Art Fundamentals Course at NBCC Miramichi after taking private art classes for years previously. She followed up with courses at the New Brunswick Craft School in Fredericton and has continued with classes and workshops to develop her craft.
As an independent artist, she has worked in a variety of mediums, including graphite pencil sketching, painting, digital art, children's book illustration, character development, commission work, portraiture, photography, sign-making and fashion design. However her preferred medium is wood burning or etching, which she is using in this particular project.
During her appearance at the Market, the public is also asked to contribute to the project by adding images of their own. There will be slips of paper, which they can write on or deposit in a special box. It may be the uniqueness of the language – the one word or expression you would only be able to hear in Miramichi, the different characters that inhabit our valley, encounters with wildlife, interaction with the great outdoors or any other image that comes to mind. The clearer the image the better. You can use examples, tell a story.
The market takes place on Friday, March 9, from 10 AM to 2 PM.
People are also encouraged to leave messages of what Miramichi means to them on the Words on Water Facebook page: https://www.facebook.com/wordsonwatermiramichi/
Words on Water Miramichi is a group of writers, actors, songwriters, spoken word performers who are active in sharing their own work through readings, book launches and other events. They encourage emerging writers by holding writing workshops, open mics and get-togethers. They are committed to promoting the work of Miramichi's more established writers, and to exposing the local population and visitors to the stories they have to tell through poems, stories or songs.
The words of our writers and images of the area will also be used to inspire a series of workshops for local 14 to 17 year olds facilitated by Samuel Crowell, originally from Whitney, and now artistic director of the Fredericton-based Buttercup Productions. A planned outcome of the sessions would be a short drama piece or small publication.
What does Miramichi mean to you?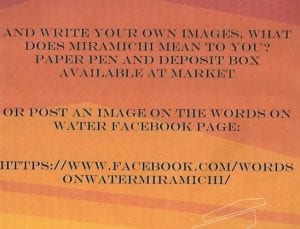 Join Artist in Residence Miramichi, Gloria Savoie, at the market, write on the Words on Water Facebook page or, for younger members of our community, take part in a workshop to develop a short drama piece or a publication.
Miramichi is your community. What is that special image that defines it perfectly? We appreciate your participation.
For more information, please contact Sandra Bunting at 776-0130
Posted by: Sandra Bunting Words on Water